TODAY: Get My No-Fail, Lazy Summer Cookbook for 60% OFF!
This recipe has been adapted from Kitchen Fun with My Three Sons. The creamy orange flavor of this boozy creamsicle float makes this the ultimate summer cocktail.
That classic orange, creamy flavor you remember so well from childhood can now be enjoyed with a grown-up twist in our boozy creamsicle float. Smooth and silky vanilla ice cream is combined with vodka and your favorite orange-flavored liqueur and then topped off with a fizzy orange soda for the ideal indulgent summer treat.
For more refreshing summer alcoholic drinks to serve at your summer gatherings, try our Wine Slushie, Mango Mojito, White Claw Slushie, and Alcoholic Frozen Lemonade. Our Boozy Popsicles are also a fun treat.
---
MORE ALCOHOLIC DRINKS RECIPES:
Screwdriver Cocktail | Pink Starburst Cocktail
---
BOOZY CREAMSICLE FLOAT INGREDIENTS
You will need:
2 to 3 scoops of vanilla ice cream (about 1 cup or enough to fill the glass to your liking)
½ teaspoon vanilla extract
1 ounce of vodka
1 ounce of Triple Sec or Grand Marnier
4 to 6 ounces orange soda 
SUBSTITUTIONS AND ADDITIONS
Alcohol: You can adjust the amount of liquor. We like boozy neutral vodka (you could also use vanilla vodka) and the orange hints of triple sec or Grand Marnier. The Grand Marnier will be a bit stronger. You can just double the vodka if you don't want to use orange liqueur.
Vanilla: The vanilla extract is also optional, but it boosts that classic creamsicle flavor.  
HOW TO MAKE THIS BOOZY CREAMSICLE FLOAT RECIPE
PRO TIP: This is a perfect cocktail to share with friends. Double, triple, or quadruple the measurements based on how many people you are serving.
STEP ONE: Fill a tall glass with vanilla ice cream.
PRO TIP: You can add any amount of ice cream, but the float looks great with at least a couple of scoops of ice cream in there.  
STEP TWO: Add vanilla extract, vodka, and Triple Sec over the ice cream.
STEP THREE: Carefully pour the orange soda over the ice cream to fill the glass.
PRO TIP: The orange soda fizzes quite a bit when poured over the ice cream, so pour slowly and refill once the bubbles die down a bit.
HOW TO SERVE
Serve this boozy float immediately with a straw and/or long spoon. Garnish the glass with orange slices, and you have the perfect summer treat. Make this treat extra decadent with a scoop of whipped cream on top.
If you are serving this cocktail for a crowd, why not add a few appetizers? Try our cucumber bites, soft pretzel bites with cheddar sauce, and cheese ball recipe. Our fruit salsa with cinnamon chips is a great sweet treat to serve at a party too.
STORAGE
This orange creamsicle cocktail should be enjoyed immediately and will not store well.
Our boozy orange creamsicle float tastes just like the classic popsicle. This is the perfect way to stay cool this summer. The combination of orange soda and creamy vanilla ice cream will remind your taste buds of summers past when the ice cream truck came calling. Add vodka and orange-flavored liqueur, and this delicious cocktail will be a big hit with all the grown-ups when the weather is hot.
FAQ
Can I make this recipe ahead of time?
This sweet drink should be made when you are ready to serve it as it won't keep in the fridge or freezer at all.
Can I use other alcohol for this recipe?
You can tailor this orange creamsicle alcoholic drink to your personal preferences. If you don't want to use vodka, you can replace it with rum or another type of alcohol.
Can I use a different soda in this recipe?
This recipe could also be made with cream soda, or you could change it up and use a completely different flavor if you'd like. Grape soda would be a fun substitution as well.
more recipes you'll love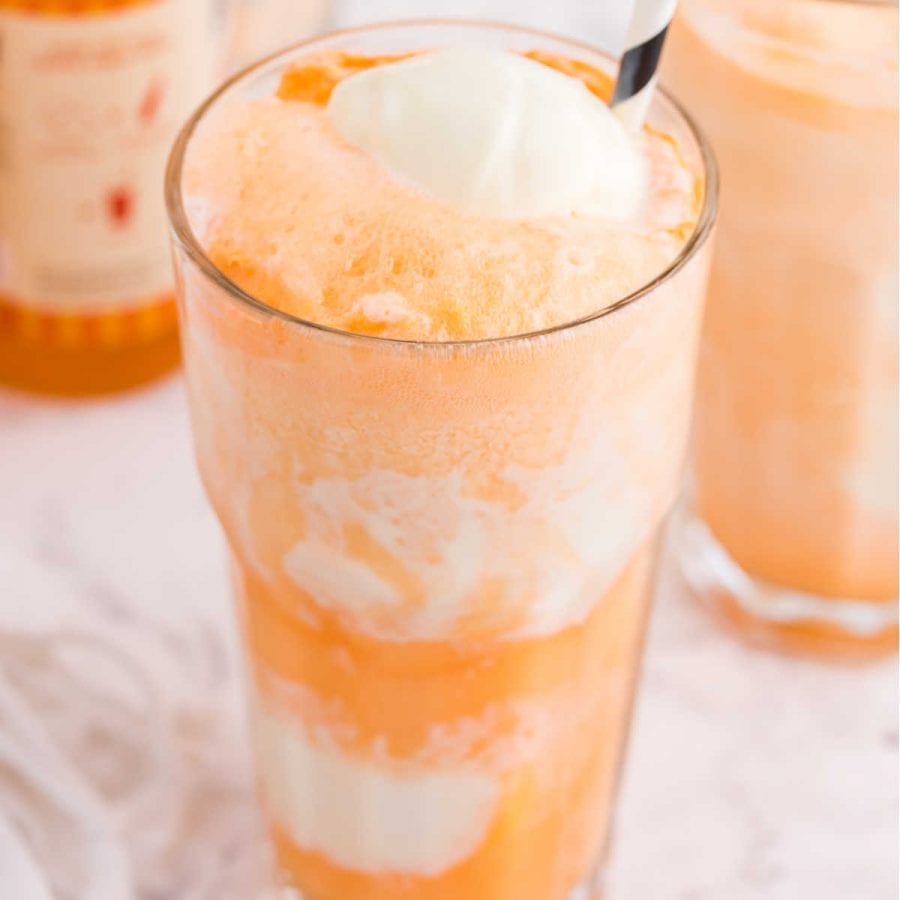 Boozy Creamsicle Float
This recipe has been adapted from Kitchen Fun with My Three Sons. The creamy orange flavor of this boozy creamsicle float makes this the ultimate summer cocktail.
Servings: 1
Calories: 490kcal
Prevent your screen from going dark
Ingredients
2 to 3

scoops

vanilla ice cream

about 1 cup or enough to fill the glass to your liking

½

teaspoon

vanilla extract

1

ounce

vodka

1

ounce

Triple Sec

or Grand Marnier

4 to 6

ounces

orange soda
Nutrition
Calories: 490kcal | Carbohydrates: 56g | Protein: 5g | Fat: 15g | Saturated Fat: 9g | Polyunsaturated Fat: 1g | Monounsaturated Fat: 4g | Cholesterol: 58mg | Sodium: 122mg | Potassium: 276mg | Fiber: 1g | Sugar: 52g | Vitamin A: 556IU | Vitamin C: 1mg | Calcium: 175mg | Iron: 1mg