Try our lazy cooking bundle – for a limited time, 60% off!
This chicken finger dipping sauce takes minutes to throw together and gives you just the right amount of spice and lots of flavor to accompany your chicken fingers and nuggets.
Skip the store-bought dipping sauce and whip up a batch of this tasty chicken finger dipping sauce. Sweet and tangy, it is a delicious homemade option for dipping your chicken fingers and chicken nuggets. Your taste buds will thank you! 
Serve this spicy dipping sauce for chicken tenders alongside our turkey tenders, potato chip chicken tenders, or popcorn chicken.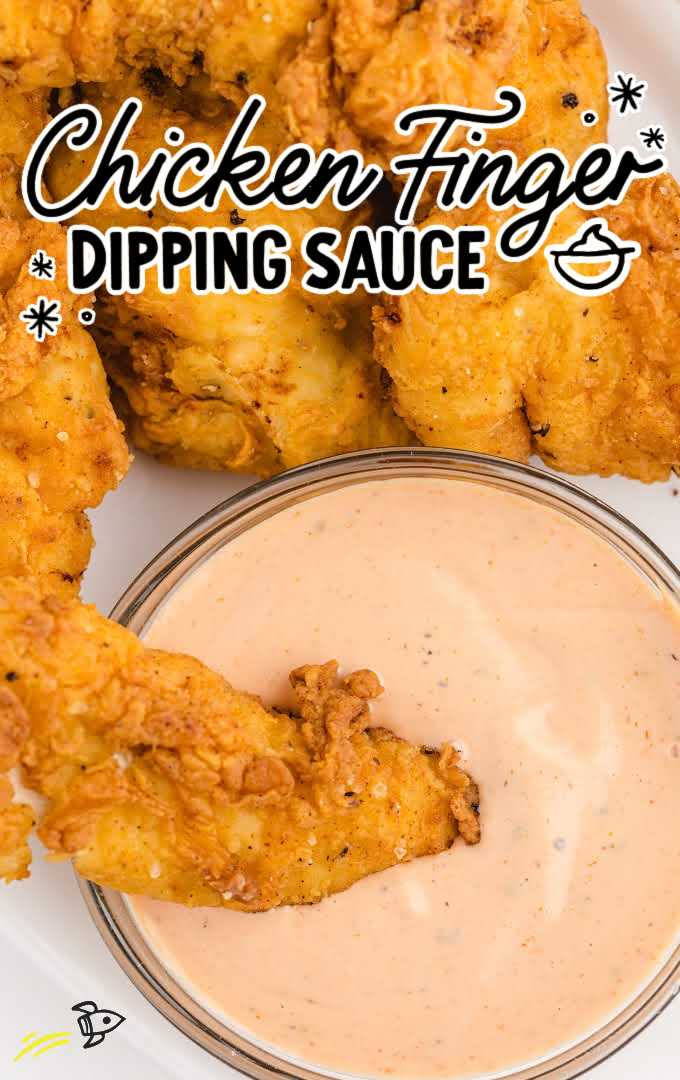 ---
MORE RECIPES:
Copycat Chick Fil A Sauce | Carolina Mustard BBQ Sauce
---
CHICKEN FINGER DIPPING SAUCE INGREDIENTS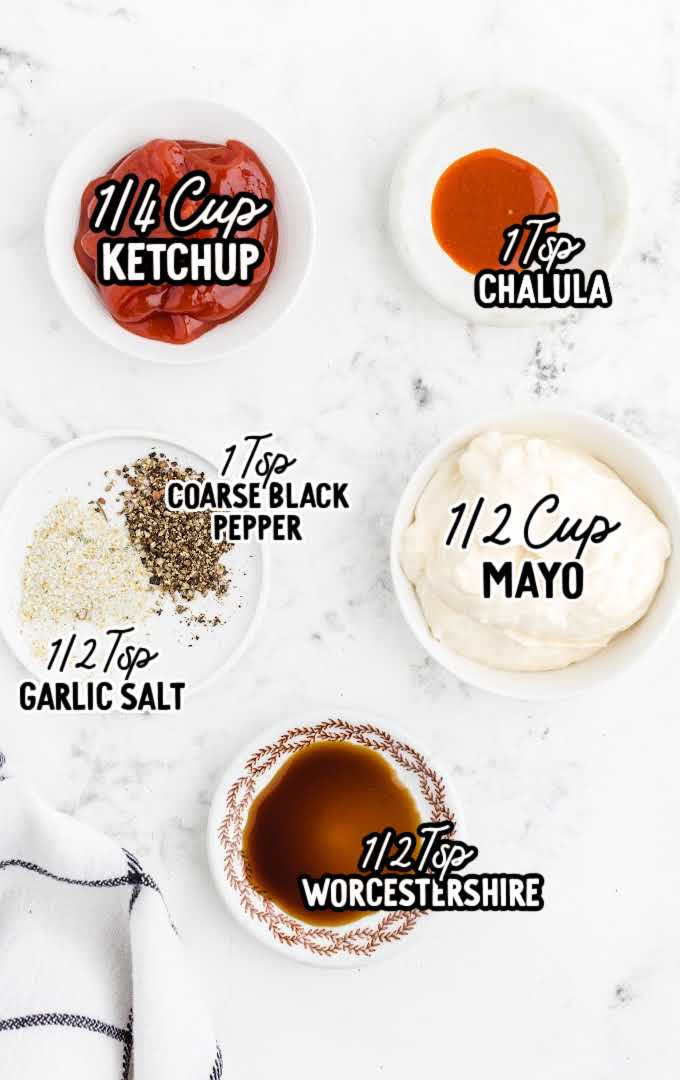 You will need:
½ cup mayonnaise
¼ cup ketchup
½ teaspoon garlic salt
1 teaspoon coarse black pepper
1 teaspoon Cholula or your favorite hot sauce
½ teaspoon Worcestershire sauce 
SUBSTITUTIONS AND ADDITIONS
Mix-Ins: There are so many variations of chicken dipping sauce around. You could mix in different items to alter the taste to your liking. Adding your favorite sauces such as sweet barbecue sauce, tangy yellow mustard, or honey mustard would work.
Hot Sauce: Choose your favorite hot sauce or chili sauce for this recipe to alter the level of spice in it. You can even buy spicy ketchup that you could use in this recipe. 
Worcestershire sauce: If you don't have any on hand, you can substitute soy sauce in a 1:1 measurement.
Garlic Salt: If you find you don't have garlic salt on hand, you can replace it with garlic powder and kosher salt. Use a 3:1 ratio of 3 parts salt to 1 part garlic powder.
HOW TO MAKE THIS CHICKEN FINGER DIPPING SAUCE RECIPE
STPE ONE: In a small bowl, mix together mayonnaise and ketchup until fully combined.
PRO TIP: I like mixing the mayonnaise and ketchup first so that you have your base and can add the other seasonings gradually to achieve the spice and flavor you want.
STEP TWO: Add the remaining ingredients, mixing half or so in at a time and adjusting to taste.
PRO TIP: There is just a bit of spice to this recipe. Add more hot sauce for a spicier taste. 
PRO TIP: The Worcestershire sauce is strong – don't add more than ½ teaspoon, or it will really overpower the other flavors.
STEP THREE: Serve in a shallow bowl with freshly fried chicken fingers.
HOW TO SERVE
This is a great recipe for all your chicken dipping needs. Of course, this easy sauce recipe is perfect for any type of chicken pieces, but you could also dip your french fries or grilled potatoes in it or use it as a topping for your hamburgers or chicken sandwich. You could also think outside of the box and use this sauce as a marinade for boneless skinless chicken breasts before grilling. There really are so many easy dinners you can add this sauce on the side. 
You could also make it the next time you whip up a batch of our appetizers, including fried pickles and bang bang shrimp.
STORAGE
IN THE FRIDGE: Store this dipping sauce for chicken nuggets in an airtight container in the refrigerator for up to one week.
IN THE FREEZER: We do not recommend freezing this recipe.
MAKE-AHEAD: This can be prepared several days in advance. If setting out the sauce before serving time, keep a lid on the container or place a piece of plastic wrap or aluminum foil on the surface of the sauce to prevent a skin from forming. You can also whip up a second batch when you are making this to have on hand for busy weeknights.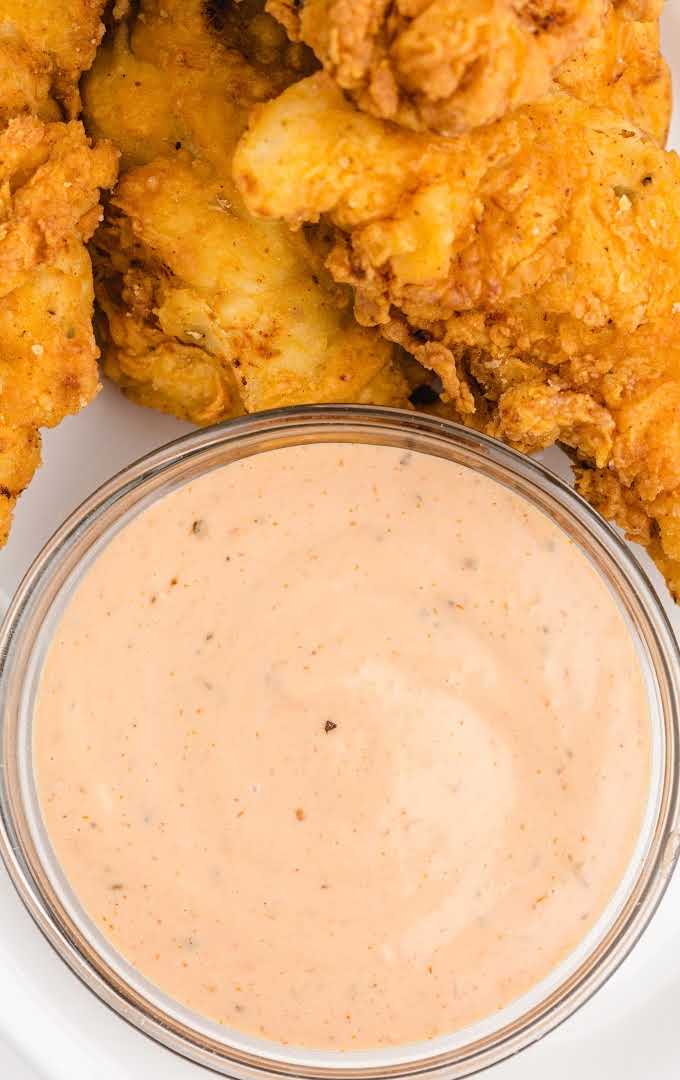 Slightly spicy and full of flavor, this simple chicken finger dipping sauce is a fantastic alternative to store-bought dipping sauces. If your family is like mine, they tend to eat the dipping sauce with a side of chicken fingers instead of the other way around, so double your batch to make sure there is lots for everyone!
FAQ
What can use this dipping sauce for?
This dipping sauce is one of those easy recipes that can be used for so many foods. Try it with all your favorite finger foods, including chicken nuggets, chicken strips, popcorn chicken, or fried chicken. You can also use it as a topping on burgers.
How long can I store this sauce?
You can store this spicy sauce in the fridge in an airtight container for up to a week.
Can this sauce be frozen?
We don't recommend freezing this sauce.
more recipes you'll love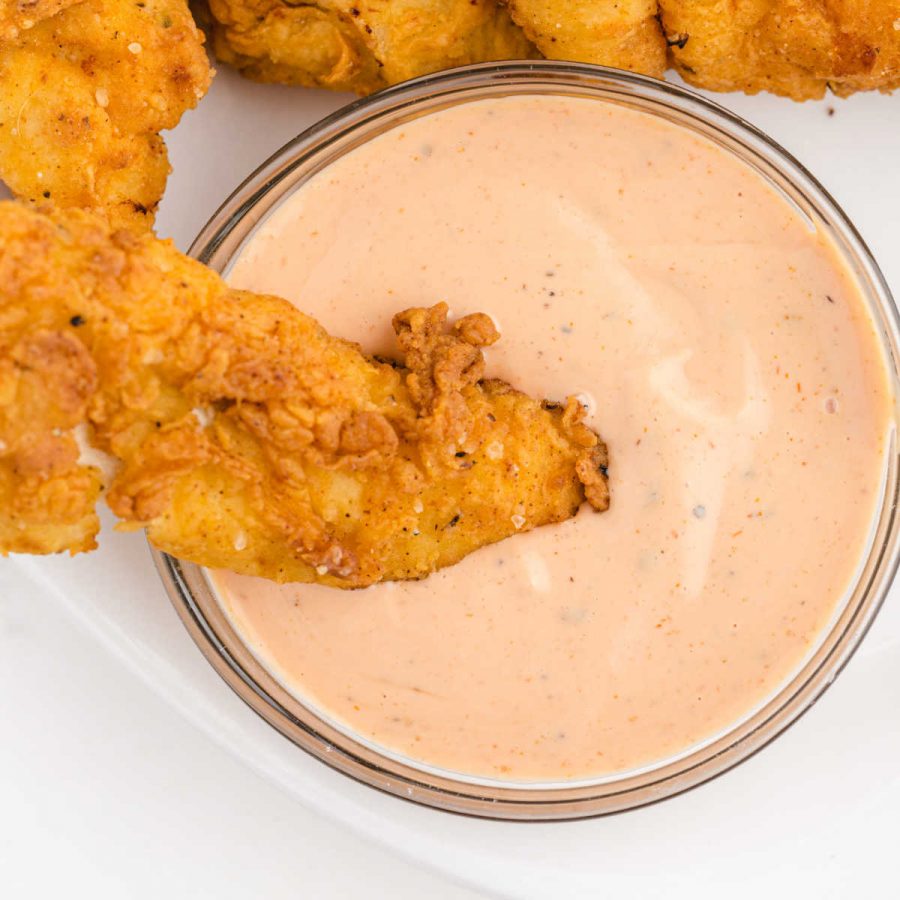 Chicken Finger Dipping Sauce
This chicken finger dipping sauce takes minutes to throw together and gives you just the right amount of spice and lots of flavor to accompany your chicken fingers and nuggets.
Calories: 837kcal
Prevent your screen from going dark
Ingredients
½

cup

mayonnaise

¼

cup

ketchup

½

teaspoon

garlic salt

1

teaspoon

coarse black pepper

1

teaspoon

Cholula hot sauce

or favorite hot sauce

½

teaspoon

Worcestershire
Nutrition
Calories: 837kcal | Carbohydrates: 18g | Protein: 2g | Fat: 84g | Saturated Fat: 13g | Polyunsaturated Fat: 50g | Monounsaturated Fat: 19g | Trans Fat: 1g | Cholesterol: 47mg | Sodium: 2554mg | Potassium: 268mg | Fiber: 1g | Sugar: 15g | Vitamin A: 400IU | Vitamin C: 6mg | Calcium: 32mg | Iron: 1mg