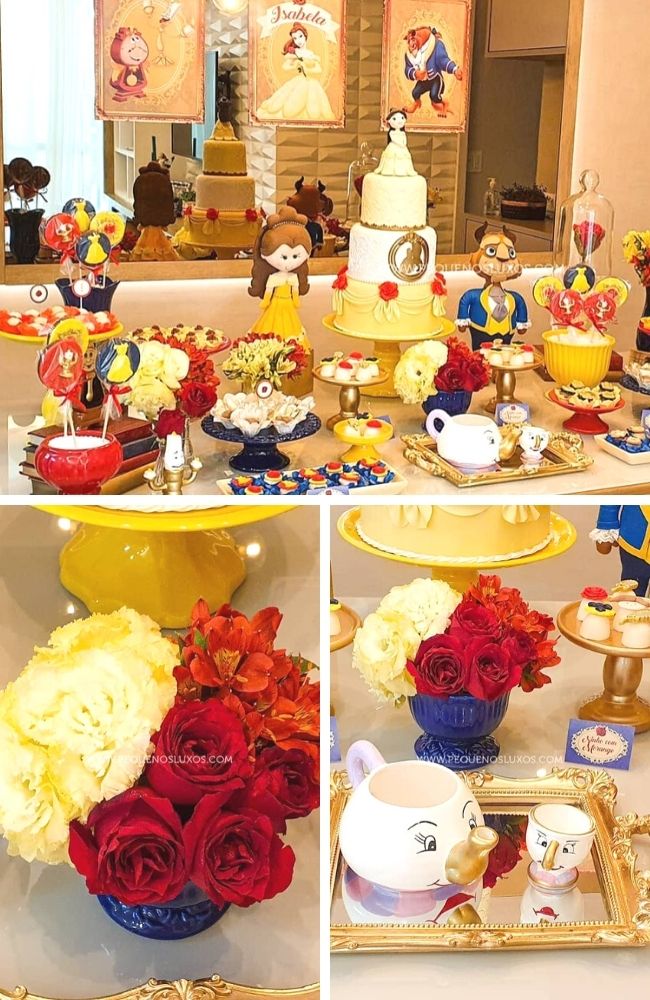 This exquisite Beauty and the Beast themed party was thoughtfully planned by Pequenos Luxos. The party was filled with all of the classic colors and characters from the Beauty and the Beast movie. This party was the perfect theme for a young girl or even an adult who values the magic of Disney.
The four-tier cake for this party was gorgeous! The bottom layer of the cake was decorated in yellow to match Belle's dress and was accented with red roses. The second layer of cake was frosted with simple white and included a shiny gold emblem. The top of the cake was uniquely crafted to resemble Belle in her yellow dress. The cake sat on top of a yellow platter.
The dessert area was filled with other tasty treats. Cupcakes were intricately decorated to resemble Cogsworth and The Beast. Other desserts were made to look like roses and accessories from the movie. Some desserts were even decorated with shiny gold castles. Large cake pops included characters from the movie and was placed into unique red and yellow jars. Each cake pop was wrapped in cellophane and tied with an adorable red bow. This made for the perfect treat for guests to take on the go. Every treat featured a themed label so that guests knew exactly what was being offered.
The background of this exquisite Beauty and the Beast party of the dessert table was stunning! Three large posters depicting characters from the movie were hung on a large mirror. Floral arrangements filled with red and yellow flowers were spread throughout the table. This party even included replicas of the iconic Mrs. Potts and Chip Potts on top of a mirror with ornate gold trim. Statues of Belle, The Beast, and even Lumiere were used to decorate the table. Even Cogsworth made an appearance on a stack of vintage-looking books. Of course, a Beauty and the Beast themed party would not be complete without the rose. A small yellow platter with a glass cover was used to hold a bright red rose.