Keep the birthday child and guests busy for hours with an action-action-packed Mario party! We will talk about what food to serve, party decoration ideas and some fun games for the kids!
Mario Party Food Fare
Star Power sandwiches: Use your favorite sandwich filling (peanut butter and jelly, Nutella and bananas, and ham and Swiss are kid-friendly favorites) then use a large star cookie cutter to cut out shapes. Add two mini chocolate chips for the eyes using a tiny dab of mayonnaise.
Sky jello with fluffy clouds: Using three small boxes of blue jello, create your dessert in a 13×9-inch pan. Right before serving, add whipped cream to resemble clouds.
Firepower Flower Fruit/Veggie Platter: Use a small container of fruit/veggie dip for the center of the flower. Add black olive eyes. Around the circular dip container, add three layers of colorful fruits or veggies in a circular pattern. Baby carrots, cherry tomatoes, strips of red, yellow or orange bell peppers, fresh pineapple chunks, sliced strawberries, blueberries and cantaloupe slices work well. Create the stem using green produce, such as cucumbers, zucchini, green bell peppers, kiwi slices or grapes. Add "leaves" using broccoli, sugar-snap pea pods, green apples or pears.
Create party bags for guests to take home: Fill purchased Mario-themed bags or boxes with toys and snacks like K'nex Mario figure mystery bags, Mario-themed fruit snacks, chocolate gold coins, bubble gum tape, finger lasers, Mario-themed pencils/erasers and Mario candy. 
Mario cheese hats: Tape half a red construction circle to a Babybel cheese circle to resemble the hat's bill and add a small, black "M" sticker in a white oval made from construction paper to the cheese circle for an instant Mario hat. The tape won't actually touch the food as children remove the red wax circle from the Babybel to reveal the cheese.
Piranha plant fruit skewers: Thread green grapes on a bamboo skewer and top with a large strawberry with a wedge cut out in the middle to resemble an open mouth. Arrange them in a flowerpot container before placing on the food table.
Star Power rice treats: Create homemade marshmallow rice treats dyed with yellow food coloring and use a star cookie cutter to create shapes and an edible marker, mini chocolate chips or frosting to create the eyes.
deviled "Yoshi" eggs: Serve deviled "Yoshi" eggs by dying the egg yolk mixture green before filling the egg whites.
Label a bowl or cheese balls "fire power," a bowl of powdered sugar doughnuts "ice power" and a bowl of malt balls "Yoshi eggs".
Using poster board, cut out mustache and princess crown shapes. Use a hole punch to cut a hole in the middle of each and thread onto colorful straws for a fun, embellished straw to add to bottles of water or Hawaiian punch.
Mario Party Decorations
Starman balloons: Purchase gold foil star balloons (readily available at most party stores) and add lines for the eyes with black tape or permanent marker.
Create question marks from pieces of yellow felt. Hang from the ceiling in the party area
Use different sizes of cardboard boxes to create 3D decorations around the room. Glue half with red construction paper and half with yellow construction paper. On the red ones, use a permanent black marker to create a brick pattern. Create block-style question marks from white construction paper and glue in the middle of the yellow-covered boxes. Add small white construction-paper circles in the corners.
Hang gold paper plates from the ceiling to resemble coins.
Cut white clouds from construction paper and tape on the walls.
Tie red balloons with white construction paper circles to balloon weights.
Using PVC pipe, create a "warp pipe" by painting green. Add colorful flowers to the pipe "vase".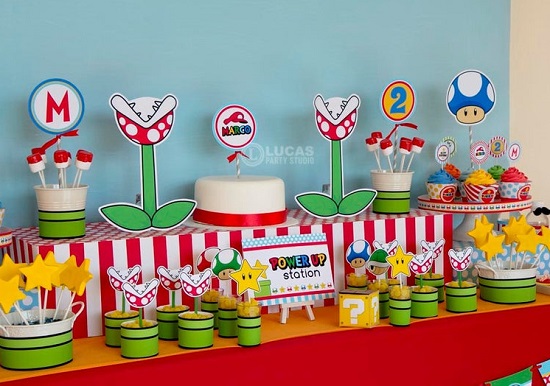 Crafts / Activities
Create a word scramble using Mario-themed objects and phrases, like Power Up, Yoshi, Mario, Luigi, Starman, mushroom, video game, Nintendo, firepower flower, etc.
Create paper sack party bags with markers, crayons and stickers.
Fill a mason jar with M&M "fireball" candies. Ask guests to guess how many candies are in the jar. The one with the closest number wins the jar filled with candies.
Super Mario photo booth: Hang Mario-themed wrapping paper on a wall. This will serve as your background. Provide red balloons with white construction paper circles (mushrooms), cut out mustaches, blue overalls, construction paper stars and more to use as photo props
Create a question mark piñata from a cardboard box
Mario Party Games
Play classic "Hot Potato" using a small Mario toy or stuffed animals as the game piece. Play the video game's music in the background and when it stops, whoever has the game piece is out. Continues rounds until two people are left to play for the win.
Pop the mushrooms: Blow up small red and green balloons. Add white circles using a permanent marker or construction paper to resemble Mario mushrooms. Put 30 seconds on a timer and see how many balloons each guest can sit on and pop during that time. The one that pops the most wins a prize.
Pin the mustache on Mario. Draw or print a copy of Mario's face and cut tiny mustaches from brown construction paper. The child that gets the mustache closest to Mario's lips while blindfolded wins.
Yoshi egg race: Tape a few plastic tablecloths to the floor. Line guests up in teams of two across from each other. Using real eggs decorated with green circles courtesy of permanent markers, provide one member from each team with a small spoon and see who can get it to their partner in the fastest time without it falling off the spoon and breaking. Award a prize to the winner.
Print free mario bingo cards or order ones from Etsy and have fun playing classic bingo, offering large candy bars for prizes.
Place a large green bucket in the center of the room. Give each guest a set of six balls in different colors. Set a timer for 10 seconds. Whoever gets the most "fireballs" in the bucket wins a prize.
Game Prize Ideas
Mario-themed card games
Mario pencils, pens and erasers
Giant candy bar wrapped in Mario-themed wrapping paper
Mario figurines
Mario stuffed animals
Super Mario Bros. water bottle
Mario puzzle
Package of chocolate coins
Large punch balloon
Large red rubber play ball
Mario Party Cake Ideas
Frost chocolate cupcakes in different bright colors and add white fondant circles or white candy melt circles to resemble mushrooms.
Frost white cupcakes with light blue icing and add different edible decorations like star-shaped sprinkles, green vines drawn with a frosting tip, green fondant "warp pipes," Mario rice-paper logos (order online), red brick licorice and more.
Create a racetrack cake by designing a simple racetrack with brown and yellow frosting and adding Mario figurines and checkered flags
Make a super easy Mario face cake using these step-by-step instructions at Meet Penny. 
Create three cube cake layers. Frost the bottom layer red and draw brick designs using black cake gel or an edible marker. Frost the middle layer blue and add fondant white clouds. Frost the top layer yellow and add fondant white question marks or Mario cake topper figurines.
Party Checklist
Download Free Checklist PDF File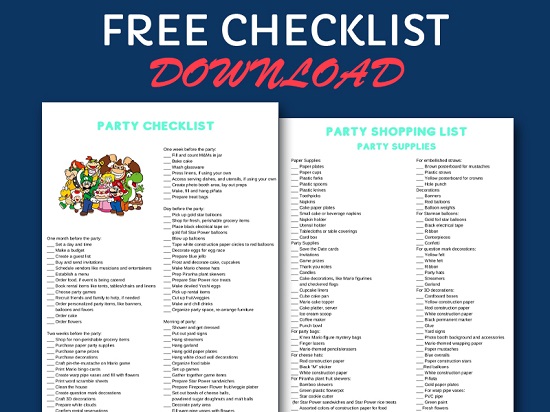 One month before the party:
___ Set a day and time
___ Make a budget
___ Create a guest list
___ Buy and send invitations
___ Schedule vendors like musicians and entertainers
___ Establish a menu
___ Order food, if event is being catered
___ Book rental items like tents, tables/chairs and linens
___ Choose party games
___ Recruit friends and family to help, if needed
___ Order personalized party items, like banners, balloons and favors
___ Order cake
___ Order flowers
Two weeks before the party:
___ Shop for non-perishable grocery items
___ Purchase paper party supplies
___ Purchase game prizes
___ Purchase decorations
___ Craft pin-the-mustache on Mario game
___ Print Mario bingo cards
___ Create warp pipe vases and fill with flowers
___ Print word scramble sheets
___ Clean the house
___ Create question mark decorations
___ Craft 3D decorations
___ Prepare white clouds
___ Confirm rental reservations
___ Prepare embellished straws
One week before the party:
___ Fill and count M&Ms in jar
___ Bake cake
___ Wash glassware
___ Press linens, if using your own
___ Access serving dishes, and utensils, if using your own
___ Create photo booth area, lay out props
___ Make, fill and hang piñata
___ Prepare treat bags
Day before the party:
___ Pick up gold star balloons
___ Shop for fresh, perishable grocery items
___ Place black electrical tape on gold foil Star Power balloons
___ Blow up balloons
___ Tape white construction paper circles to red balloons
___ Decorate eggs for egg race
___ Prepare blue jello
___ Frost and decorate cake, cupcakes
___ Make Mario cheese hats
___ Prep Piranha plant skewers
___ Prepare Star Power rice treats
___ Make deviled Yoshi eggs
___ Pick up rental items
___ Cut up fruit/veggies
___ Make and chill drinks
___ Organize party space, re-arrange furniture
Morning of party:
___ Shower and get dressed
___ Put out yard signs
___ Hang streamers
___ Hang garland
___ Hang gold paper plates
___ Hang white cloud wall decorations
___ Organize food table
___ Set up games
___ Gather together game items
___ Prepare Star Power sandwiches
___ Prepare Firepower Flower fruit/veggie platter
___ Set out bowls of cheese balls, powdered sugar doughnuts and malt balls
___ Decorate party area
___ Fill warp pipe vases with flowers
___ Charge phone or camera
Party Shopping List
If you're planning a special event, don't forget the details. Make sure everything is covered with this handy shopping list:
Food
For Star Power sandwiches:
___ Favorite sandwich filling
___ Bread
___ Mini chocolate chips
For Sky Jello:
___ Three small boxes blue jello
___ Whipped cream
For Firepower fruit/veggie platter:
___ Fruit or veggie dip
___ Two black olives
___ Assortment of fruits/veggies:
___ Baby carrots
___ Cherry tomatoes
___ Red, yellow or orange bell peppers
___ Pineapple chunks
___ Strawberries
___ Blueberries
___ Cantaloupe
___ Green stem produce:
___ Cucumbers
___ Zucchini
___ Green bell peppers
___ Kiwi
___ Green grapes
___ Green leaves produce:
___ Broccoli
___ Sugar-snap pea pods
___ Green apples
___ Pears
For party bags:
___ Mario-themed fruit snacks
___ Chocolate coins
___ Bubble gum tape
___ Mario-themed candy
For cheese hats:
___ Babybel cheese circles
For Piranha plant fruit skewers:
___ Green grapes
___ Large strawberries
For Star Power rice treats:
___ Crisped rice cereal
___ Butter
___ Mini marshmallows
___ For eyes: Edible marker, mini chocolate chips or frosting
For Yoshi deviled eggs:
___ Eggs
___ White vinegar
___ Mustard
___ Mayonnaise
___ Green food coloring
___ Cheese balls
___ Powdered sugar doughnuts
___ Malt balls
___ Bottled water
___ Individual bottles of Hawaiian punch
___ M&Ms
___ Eggs, enough for egg race
___ Giant candy bars, for game prizes
___ Chocolate coins, for game prizes
___ Cake
­___ Ice cream
___ Frosting
___ White fondant or candy melts
___ Edible decorations, like star-shaped sprinkles, green fondant, Mario rice-paper logos (order online), red brick licorice
___ Cupcake liners
___ Black cake gel
Paper Supplies
___ Paper plates
___ Paper cups
___ Plastic forks
___ Plastic spoons
___ Plastic knives
___ Toothpicks
___ Napkins
___ Cake paper plates
___ Small cake or beverage napkins
___ Napkin holder
___ Utensil holder
___ Tablecloths or table coverings
___ Card box
Party Supplies
___ Save the Date cards
___ Invitations
___ Game prizes
___ Thank you notes
___ Candles
___ Cake decorations, like Mario figurines and checkered flags
___ Cupcake liners
___ Cube cake pan
___ Mario cake topper
___ Cake platter, server
___ Ice cream scoop
­­___ Coffee maker
___ Punch bowl
For party bags:
___ K'nex Mario figure mystery bags
___ Finger lasers
___ Mario-themed pencils/erasers
For cheese hats:
___ Red construction paper
___ Black "M" sticker
___ White construction paper
For Piranha plant fruit skewers:
___ Bamboo skewers
___ Green plastic flowerpot
___ Star cookie cutter (for Star Power sandwiches and Star Power rice treats
___ Assorted colors of construction paper for food labels and decorations
For embellished straws:
___ Brown posterboard for mustaches
___ Plastic straws
___ Yellow posterboard for crowns
___ Hole punch
Decorations
___ Banners
___ Red balloons
___ Balloon weights
For Starman balloons:
___ Gold foil star balloons
___ Black electrical tape
___ Ribbon
___ Centerpieces
___ Confetti
For question mark decorations:
___ Yellow felt
___ White felt
___ Ribbon
___ Party hats
___ Streamers
___ Garland
For 3D decorations:
___ Cardboard boxes
___ Yellow construction paper
___ Red construction paper
___ White construction paper
___ Black permanent marker
___ Glue
___ Yard signs
___ Photo booth background and accessories
___ Mario-themed wrapping paper
___ Paper mustaches
___ Blue overalls
___ Paper construction stars
___Red balloons
___ White construction paper
___ Piñata
___ Gold paper plates
___ For warp pipe vases:
___ PVC pipe
___ Green paint
__ Fresh flowers
___ Treat bags
Crafts
___ Computer paper for printable word scramble
___ Plain paper party sacks
___ Markers
___ Crayons
___ Mario stickers
Games
___ Small Mario toy, figurine or stuffed animal
___ Red balloons
___ Green balloons
___ White permanent marker
___ Blindfold
___ Plastic tablecloths
___ Green permanent marker
___ Cardstock for printable bingo cards
___ Large green bucket
___ Small balls in different colors
___ Mario-themed card games
___ Mario pencils, pens and erasers
___ Mario-themed wrapping paper
___ Mario figurines
___ Mario stuffed animals
___ Super Mario Bros. water bottle
___ Mario puzzle
___ Large punch balloon
___ Large red rubber play ball