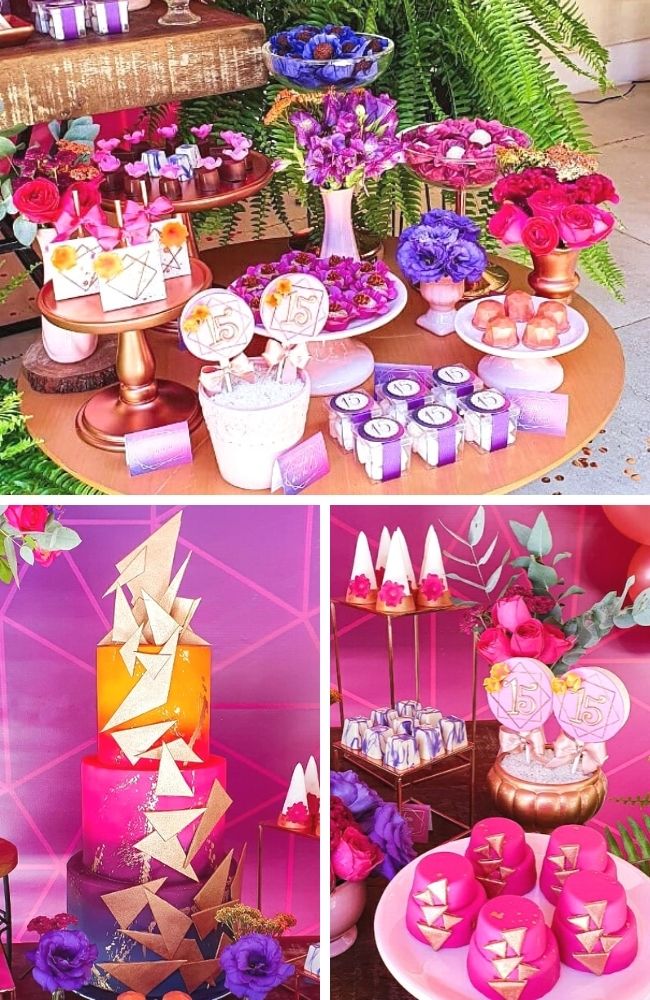 This gorgeous rose gold and pink quinceañera was planned by Pequenos Luxos. The party was filled with rich colors, tasty treats, and flowers!
The dessert table for this party was amazing! A large cake was decorated with beautiful colors that resembled a sunset. The cake was also decorated with shiny gold geometric triangles. The bottom of the cake featured two vibrant purple flowers that stood out beatifully. Other desserts included decorative chocolates and cake pops that matched the theme. Chocolates were drizzled in bright purple and dipped in gold. Some of the desserts even featured matching gold triangles to the cake. The cake pops were placed in gold vases and included adorable light pink bows. Each cake pop had the number 15 in decorative writing and was adorned with small yellow flowers in the corner. Each dessert was a true work of art!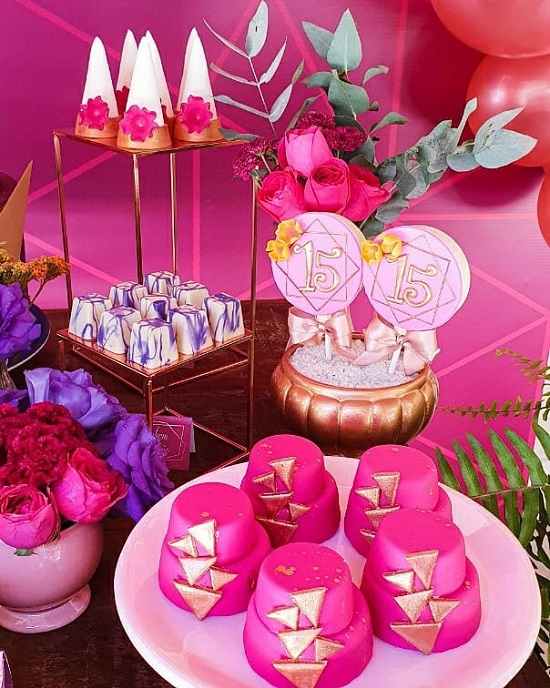 The background of the dessert table was stunning! A pink and purple geometric backdrop matched perfectly with the cake and other decors. Live ferns were placed strategically throughout the dessert area. Gold vases were filled with bright and colorful flowers. A large floral arrangement stood behind the cake. The arrangement featured bright orange, purple, and pink flowers. A cascade of rose gold balloons framed the dessert area perfectly. Amongst the balloons was one sparkling gold balloon that looked similar to a disco ball. Even the floor was decorated to fit with the theme. Gold confetti was spewed on the floor surrounding the dessert area.
Guests did not leave this party empty-handed. Adorable goodie bags and boxes were packed full of tasty treats. Some of the boxes even matched the backdrop of the dessert area. This party featured the perfect decor to help a girl celebrate her passage from girlhood to womanhood!